Being aware of changes in driving behavior in older drivers can ensure that everyone stays safe on the road. Old age does not always equate to an inability to operate a motor vehicle. There are plenty of resources in place to help make that decision.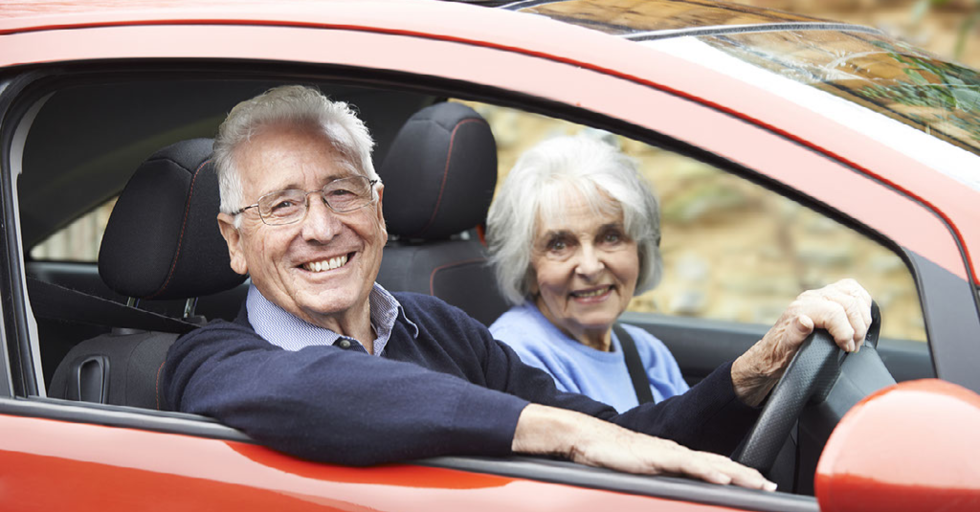 How Does Age Affect Driving?
As we get older, aging can result in a reduction of mental and physical capabilities needed for driving. It is important to be aware of these changes to safely adjust to new measures when driving.
The Massachusetts Registry of Motor Vehicles offers a Safe Driver Checklist for older drivers to help them determine whether they are capable of operating a motor vehicle.
If you find yourself responding yes to many of the questions on the Safe Driver Checklist, the RMV recommends driving less or voluntarily surrendering your driver's license. When doing so, they will provide you with a free Massachusetts I.D.
There are also online courses that you can take to learn more about driving at your older age that ensures safety for you and the drivers around you.
When Should An Elderly Person Stop Driving?
There is no set age that an elderly person is too old to drive in the state of Massachusetts.
Drivers aged 75 and older must renew their license in person every five years. They are advised to fill out an online questionnaire to bring with them to the RMV. They will also be required to complete an in-person vision exam. Alternatively, they can have one performed by a Class D and M Vision Screening Certified ophthalmologist or optometrist outside of the RMV. Outside of the RMV, the exam must be completed within one year of the renewal request.
At any time when going to renew a license, the RMV can request a road test or written test if there are indications of driver impairment.
Elderly Driving Restrictions
The RMV can place driving restrictions on a person's driver's license after they administered a driving test. Common restrictions/conditions on elderly drivers' licenses include:
Wearing contacts or glasses
Wearing hearing aids
Installing an additional outside mirror
Driving only vehicles with adaptive devices
Driving only automatic vehicles
Time of day restrictions (i.e. no driving at night, no driving during rush hour)
Restrictions based on the driver's medical condition(s)
Unsafe Driving Conditions To Look Out For
There are several unsafe driving conditions for the elderly to be aware of to operate a vehicle safely on the road including:
Before the sun rises and after the sun sets
Overly bright headlights in opposing traffic
Weather/natural lighting that makes it hard to read road signs
Ability to hear the other vehicles around you
Slow reaction times when operating a vehicle
Being aware of train crossings
Being aware of the safety within your vehicle (i.e. wearing a seatbelt, checking the dashboard)
Heavy, fast-paced traffic
As you get older, your vision may not be as sharp during the darker hours of the day. In addition, bad weather including fog and cloudy days can make it hard to read the road signs.
Other vehicles on the road can be intimidating to elderly drivers, even when you are safely operating your vehicle. Making sure can react quickly to the vehicles around you, as well as being aware of how when you can hear them, can help ensure that you can operate a vehicle safely.
Older Driver Safety Programs
There are plenty of programs available for older drivers, including ones from AAA and AARP. As you get older, these programs are designed to check that you are still mentally and physically capable of operating a vehicle safely.
AAA Elderly Safe Driving Programs
AAA offers several options to keep older drivers safe. Their RoadWise Driver program is an online course designed to help older drivers adjust to age-related changes that affect their driving behavior. The Senior Transportation Mobility Planner helps older drivers access transportation when they are unable to drive.
AAA also offers guidance resources for families and friends of older drivers.
AARP Elderly Safe Driving Programs
AARP offers a Smart Driver online course that educates older drivers on how to adjust to driving. It teaches the following:
How medication affects driving ability
Reducing driver distractions
Maintaining safe follow distance
Ensuring proper seat belts, airbags, anti-lock brakes, and new technology in cars
Handling turns and roundabouts
Adjusting to age-related physical changes
The course is entirely online and self-paced. AARP also encourages older drivers to take the course by offering money-saving incentives on auto insurance.
How An Experienced Attorney Can Protect Your License
An attorney experienced in license suspension can help you protect your license as you get older. If you feel that your license has been unjustly suspended, contact an attorney for a consultation.